While mobile payment is already ubiquitous on the Chinese mainland, scanning a code with a smartphone to pay for a product or service wasn't a popular option for Hong Kong people until lately.
The city's own digital wallet TNG hopes to set the mobile payment trend in Hong Kong.
TNG Wallet - a Hong Kong-based startup - was founded by Malaysian entrepreneur Alex Kong. As a serial entrepreneur, Kong has always been keen to explore the opportunities in digital payment.
He set up an online travel company about nine years ago, charging customers transaction fees for booking flight tickets, hotel rooms or movie tickets on its e-commerce platform.
However, following the September 11 terrorist attacks in the US in 2001, banks were forced to shut down a wide range of accounts of small merchants as a risk-control measure. Without their accounts, the merchants had no way to conduct transactions, depriving Kong's platform of any revenue.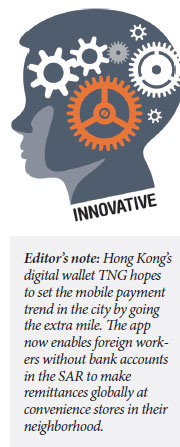 He then decided to develop a payment system that would safeguard the rights of both customers and merchants.
Without adequate funding and experience at that time, Kong founded Sino Dynamic instead in 2009 to develop smartphone applications, as a way to save money and further develop the TNG Wallet project.
Putting together a right team was a painful process as well, recalls Kong. While his application company had trained a batch of developers, there was hardly anyone willing to join the enterprise.
Kong wasn't able to form a team until he switched to the fourth group of developers, whose recruitment process was quite different.
"When I told the previous interviewees that I had this idea of TNG, they looked at me like I was crazy. So, for the last time, I simply cut to the chase - I told them I was crazy and asked them if they were crazy enough to join me."
Eventually, in March 2015, Kong assembled a team of seven developers on the TNG Wallet project and launched the app in November that year.
The wallet's launch has drawn local attention with more than 200,000 downloads in three days. By teaming up with local merchants, users were able to make payments at a range of grocery and convenient stores.
Two years after the launch, Kong has been striving to make TNG more than a digital wallet. "TNG is not much different from a bank now," he says.
While the users can top up and withdraw money from the TNG Wallet, usually at 7-Eleven convenience stores, they can now transfer money in a real-time manner globally in 12 countries, where the recipients can pick up cash at more than 190,000 spots internationally.
International remittance is set to benefit foreign workers in Hong Kong who are not able to open bank accounts.
According to Hong Kong's Census and Statistics Department, the number of foreign domestic helpers had risen to 352,000 last year - mainly from the Philippines and Indonesia.
In the past, the maids had to rely on telegraphic transfers through wire-transfer agencies, or banks which charged them transaction fees ranging from HK$100 to HK$200.
TNG Wallet aims to solve their problems by allowing domestic helpers to make transfers at convenience stores in their neighborhood free of charge.
Among HK$700 million worth of transactions recorded in September, global remittances accounted for more than 80 percent of the volume.
TNG's next step will be to serve the unbanked population in the global arena. According to the World Bank, 2 billion adults worldwide had no bank accounts as of 2014.
Kong believes TNG's focus on the unbanked population sets it apart from other digital payment players in Hong Kong even with the latest entry of Alipay and WeChat - the mobile payment apps of mainland tech giants Alibaba Group and Tencent Holdings.
He noted that for the Hong Kong market, Alipay was mainly used by Taobao shoppers and WeChat Pay by gamers, while TNG aims to be a digital bank for the unbanked.
In the meantime, Kong stressed that the heavyweight entrants would have a positive impact on the industry by educating the Hong Kong market about the new payment habit.
According to the Hong Kong Monetary Authority, digital payments accounted for more than 60 percent of personal consumption expenditure in Hong Kong in August this year. However, the majority of digital transactions are made through credit cards, followed by Octopus cards.
In contrast, third-party mobile payments on the mainland have taken up over half of offline transactions for shopping, and the ratio has reached 31.7 percent in rural areas, according to a survey by China Internet Network Information Center.
"It was very challenging in promoting mobile payment in Hong Kong as the local people were already used to the Octopus card and credit cards. They wouldn't switch to a new payment method unless there's a significant incentive," says Kong.
His incentive was a free offer of an extra HK$100 for users' initial top-up of HK$100, which quickly recruited the initial user base for TNG Wallet, and cost the company $20 million.
To make mobile payment a more convenient option, Kong hopes to expand the use of TNG to other services, such as public transport. The shuttle bus service at Cyberport, which incubated TNG Wallet in its early days, was one of the first users of the wallet in the transport sector.
TNG raised $115 million in a Series A funding round in September, led by Chinese investor New Margin Capital, and aims for an initial public offering listing next year if Hong Kong's new board follows through.